They're now very openly talking about Turkey defaulting on their sovereign debt aka Venezuela:
The $850 billion economy's potential needs are huge. Were Turkey to descend into a full-blown crisis where it was shut out of international borrowing markets, analysts estimate Ankara would have to find between $40 billion and $90 billion to avoid some kind of sovereign default.
For many economists, this is a textbook emerging market currency crisis.
Years of foreign debt accumulation and rising balance of payments gaps meet a sudden evaporation of domestic and investor confidence that sends the currency sliding, inflation soaring and forces central bank interest rates higher to control it.
The interest rate and currency shocks in turn trigger a deep recession and problems in the banking system as firms and households struggle to pay back their loans — making high interest rates unsustainable and leaving the currency vulnerable to further weakness.
If foreign investment grinds to a halt and hard cash buffers disappear, Turkey has only limited options without simply building large current account surpluses that may require a much deeper and longer domestic recession.
https://www.reuters.com/article/us-t...-idUSKCN1SR1XL
Now, Turkey's hard cash buffers have just about run out and Erdogan has completely burnt his bridges with the IMF - so no bailout from there. I can't see where Erdogan and his cronies are going to pull 10's of billions of dollars to save Turkey turning into Venezuela at short notice....
Here's a nice picture showing where the lira is ultimately heading: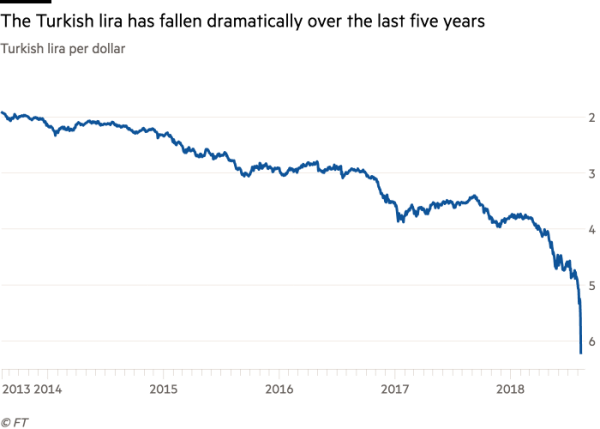 Now, the banking system most exposed to Turkish debt in Europe is Spain's:
https://www.eurasiareview.com/230520...pigs-analysis/
If I had money in a Spanish bank, I'd be putting it elsewhere...